Our New Year's Eve party checklist makes party planning a breeze. It should go without saying, but a good New Year's Eve party is one of our favorite kinds of gatherings. We hardly need an excuse to throw a good party, but there's no better reason than ringing in a new year! Even better, New Year's Eve parties have some of the strongest potential for fun themes and customizations. Follow these steps to make throwing your party as seamless as counting down from ten.
Download a printable version of the For Your Party New Year's Eve Planning Checklist!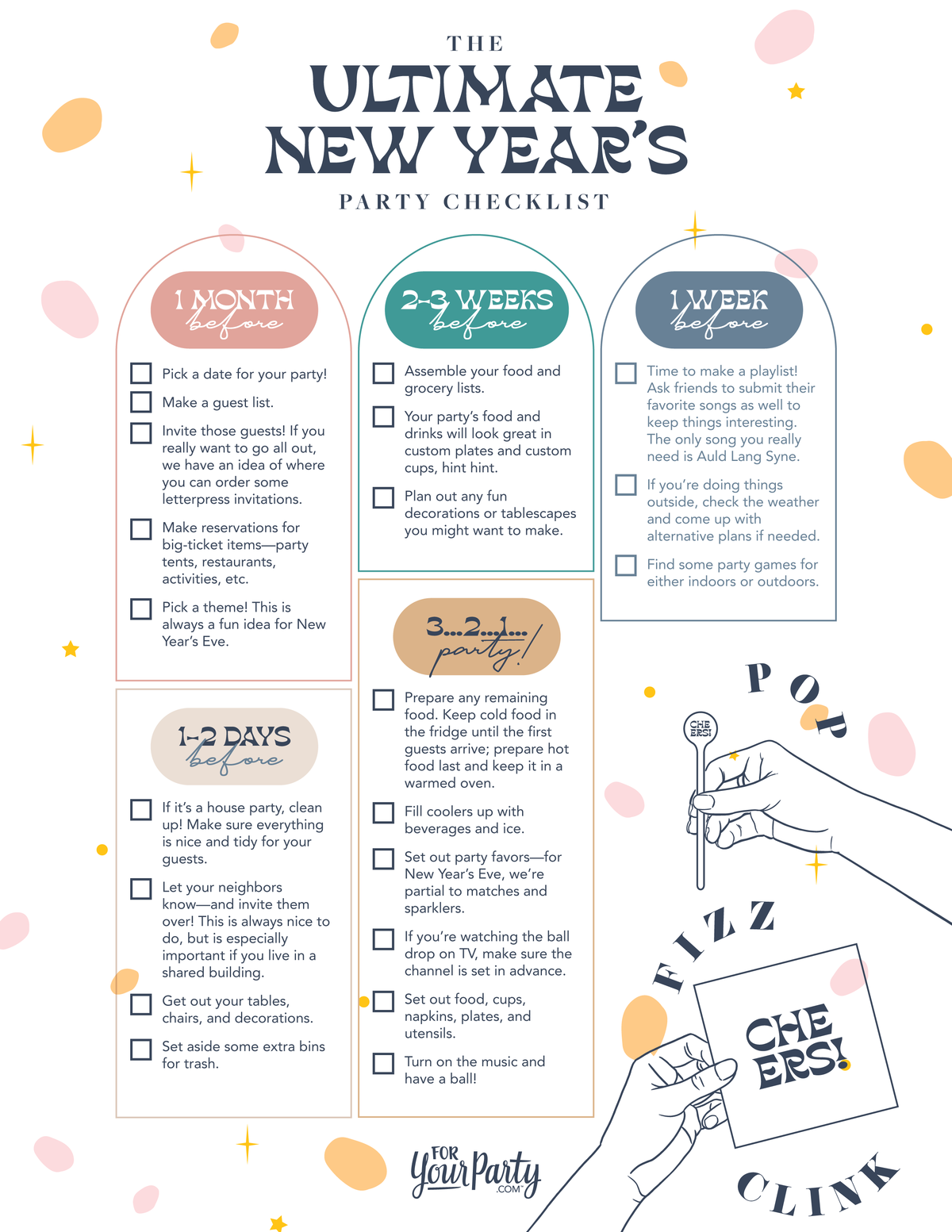 One Month Before New Year's Eve
[ ] Pick a date for your party! This is an easy one. 
[ ] Make a guest list.
[ ] Invite those guests! If you really want to go all out, we have an idea of where you can order some letterpress invitations. 
[ ] If you're going to level up, make reservations for big-ticket items—party tents, restaurants, activities, etc. 
[ ] Pick a theme! This is always a fun idea for New Year's Eve. If you're stuck, a decade—think roaring 20s or groovy 60s—is a good standby. 
Two to Three Weeks Before New Year's Eve
[ ] Assemble your food and grocery lists. The rule of thumb is that about 75% of invitees will attend, but you know your friends better than we do! Think about what cocktails or drinks will go with your theme, and whether or not dinner is being served. No matter what, you should have plenty of champagne and a non-alcoholic alternative like sparkling cider on hand for the stroke of midnight. 
[ ] Your party's food and drinks will look great in custom plates and custom cups, hint hint. 
[ ] Plan out any fun decorations or tablescapes you might want to make.
One Week Before New Year's Eve
[ ] Time to make a playlist! Ask friends to submit their favorite songs as well to keep things interesting. The only song you really need is Auld Lang Syne. 
[ ] If you're doing things outside, check the weather and come up with alternative plans if needed.
[ ] Find some party games for either indoors or outdoors.
One to Two Days Before New Year's Eve
[ ] If it's a house party, clean up! Make sure everything is nice and tidy for your guests. 
[ ] Let your neighbors know—and invite them over! This is always nice to do, but is especially important if you live in a shared building.
[ ] Get out your tables, chairs, and decorations. 
[ ] Set aside some extra bins for trash. 
3…2…1…Party!
[ ] Prepare any remaining food. Keep cold food in the fridge until the first guests arrive; prepare hot food last and keep it in a warmed oven.
[ ] Fill coolers up with beverages and ice. 
[ ] Set out party favors—for New Year's Eve, we're partial to matches and sparklers.
[ ] If you're watching the ball drop on TV, make sure the channel is set in advance.
[ ] Set out food, cups, napkins, plates, and utensils. 
[ ] Turn on the music and have a ball! 
From For Your Party, Happy New Year! We hope this New Year's Eve Party checklist was helpful. If you are planning another event like a graduation or wedding, we have other checklists on our blog. Scroll through our library for all of our helpful tips and tricks.
Image