Our Rum Bucket recipe is the showstopper summer cocktail you've been looking for. What's more summer fun than sipping on something sweet in a beach bucket? The humble bucket doesn't take itself seriously, and is an iconic beach accessory. When you're done making sand castles, reward yourself with a tasty drink. (or start with a fresh sandless bucket) If you're thinking, buck yeah! Then read on for directions so easy, you'll have your refreshing rum bucket in no time.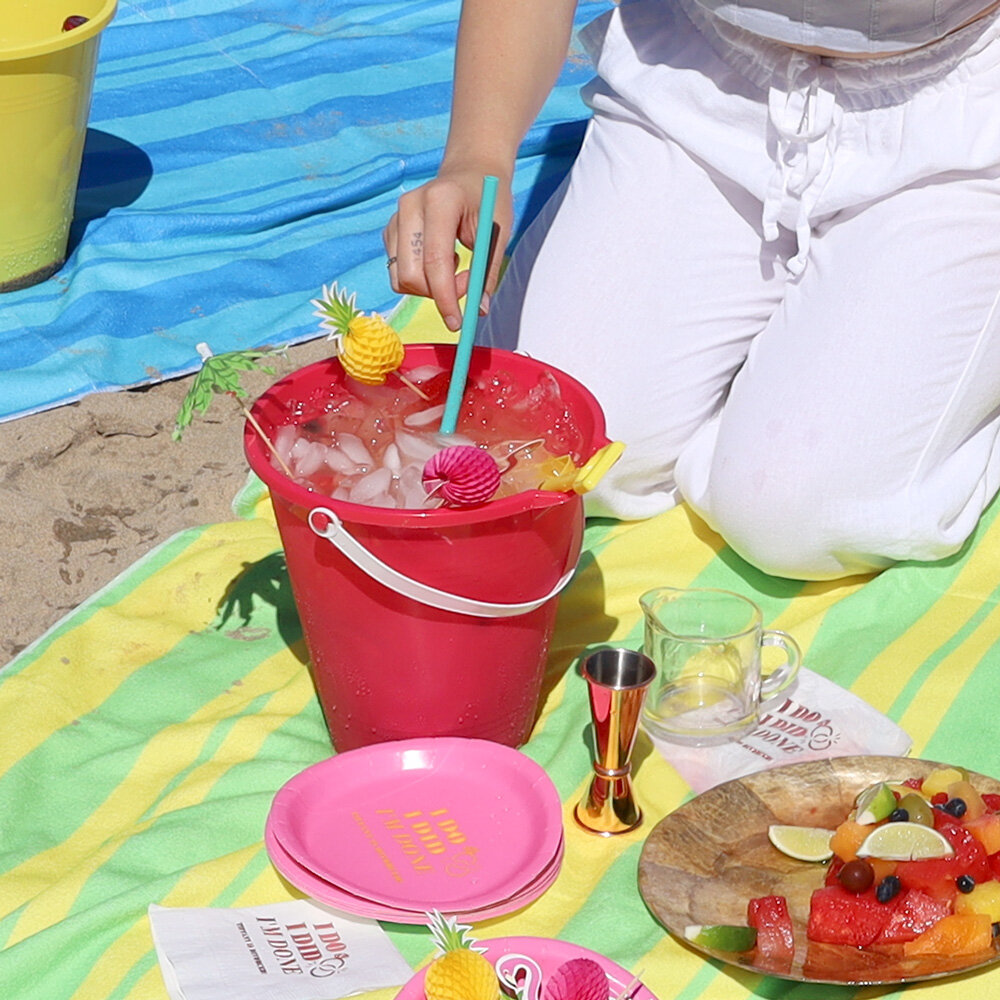 A Cocktail For Your Summer Bucket List
There's a reason why rum bucket cocktails are going viral on Tik Tok. This summer cocktail is the epitome of Instagramable. If you are throwing a bachelorette party by the beach, hosting a summer birthday party, or pouring something strong for a girl's night out, a rum bucket is going to be a hit. Let's get started! (Psst.. check out this recipe on our Tik Tok)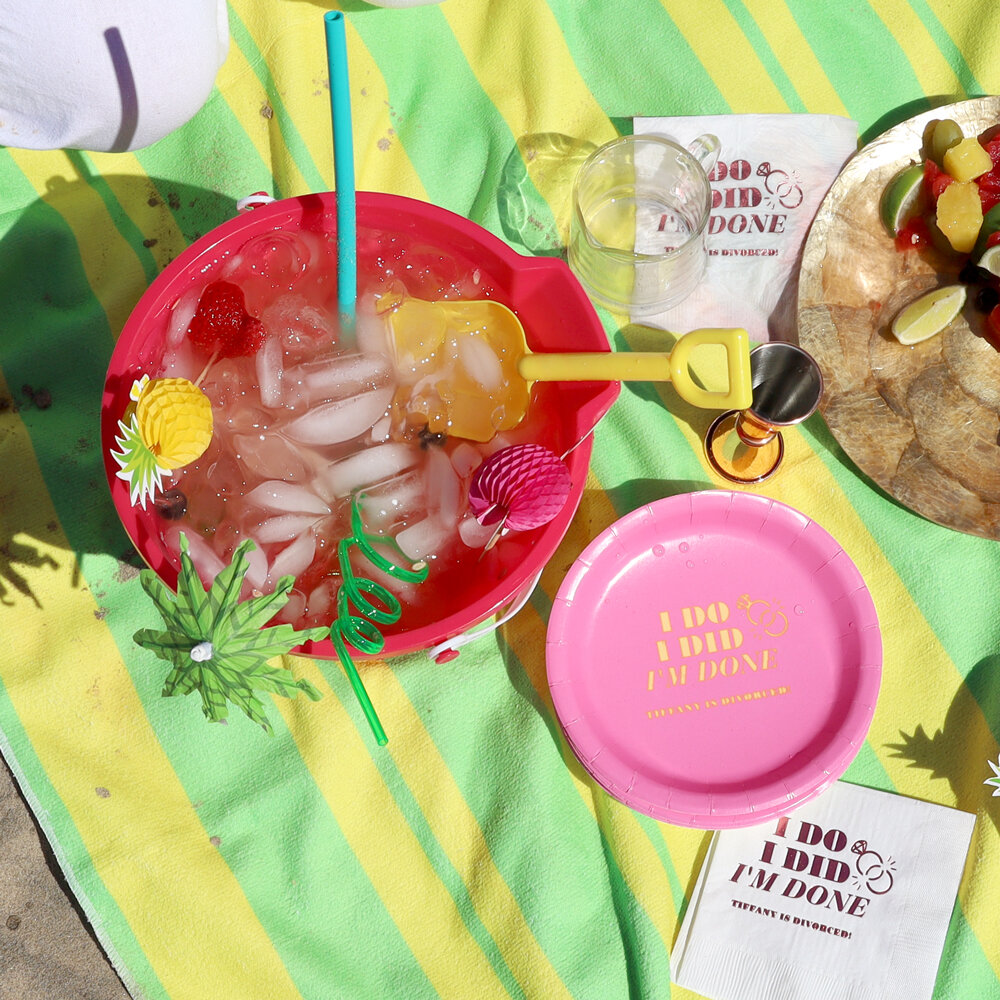 You'll Need:
1 oz Malibu Rum

1 oz Vodka

3 oz Orange juice

3 oz Pineapple juice

3 oz Fruit Punch

1 can Lemon Lime Soda

1 bottle of Flavored Smirnoff Ice (we used Ice Pink)

Ice

Fresh or Frozen Fruit

Beach Bucket (For this recipe, we used a small sized beach bucket, but if you want to make enough for two simply buy a bigger bucket and double the recipe. )

Straw

Cocktail Umbrella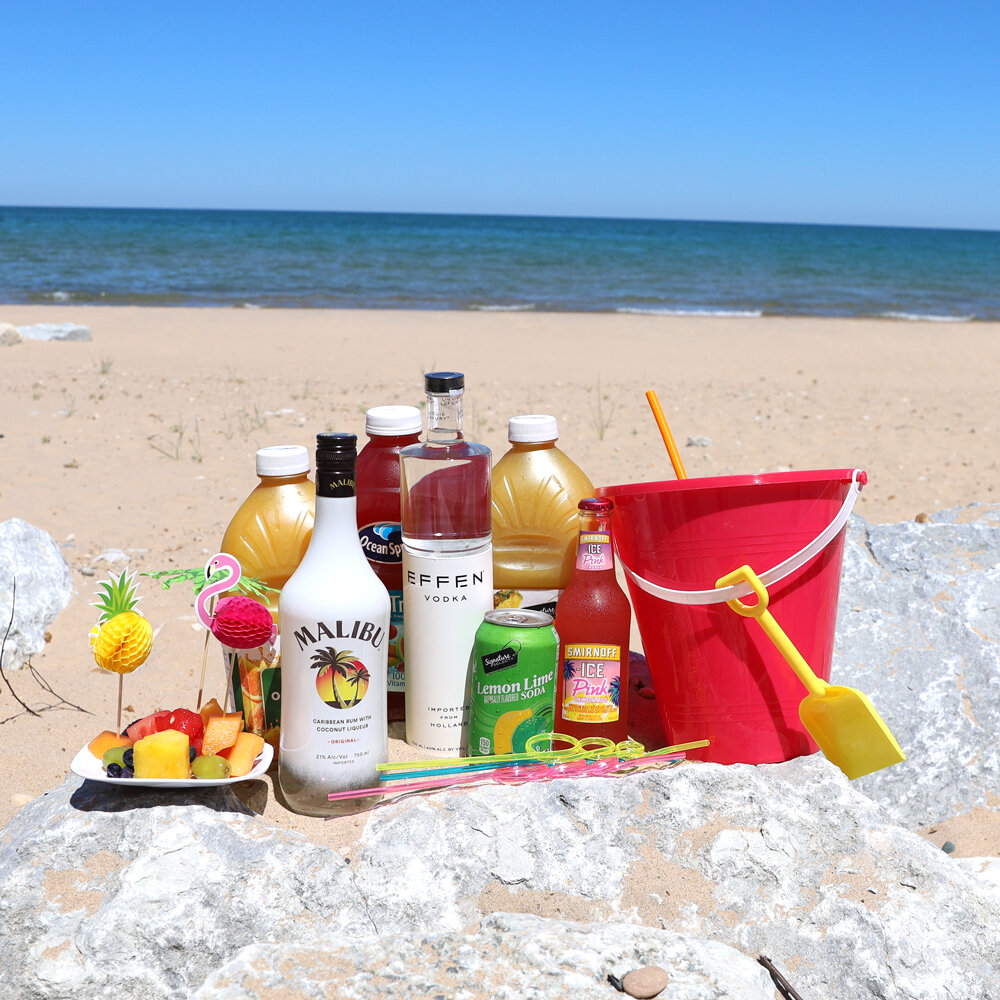 Make It Custom
We're big fans of personalization at For Your Party, and that is one of the best parts about this summer rum bucket. There are so many flavor combinations you can put together by adding your favorite juices, alcohol, and fruit. Want to make the drink stronger? Add more vodka. Want a tarter sip? Add juice. The rum bucket can be made custom to your taste. 
Variation Ideas
Use fruit flavored vodka or rum instead of Malibu and plain vodka

Add grenadine or cherry juice for sweetness

Try gummy candy like gummy worms or sour bears on top of the drink 

Swap the orange and pineapple juice for cranberry or strawberry lemonade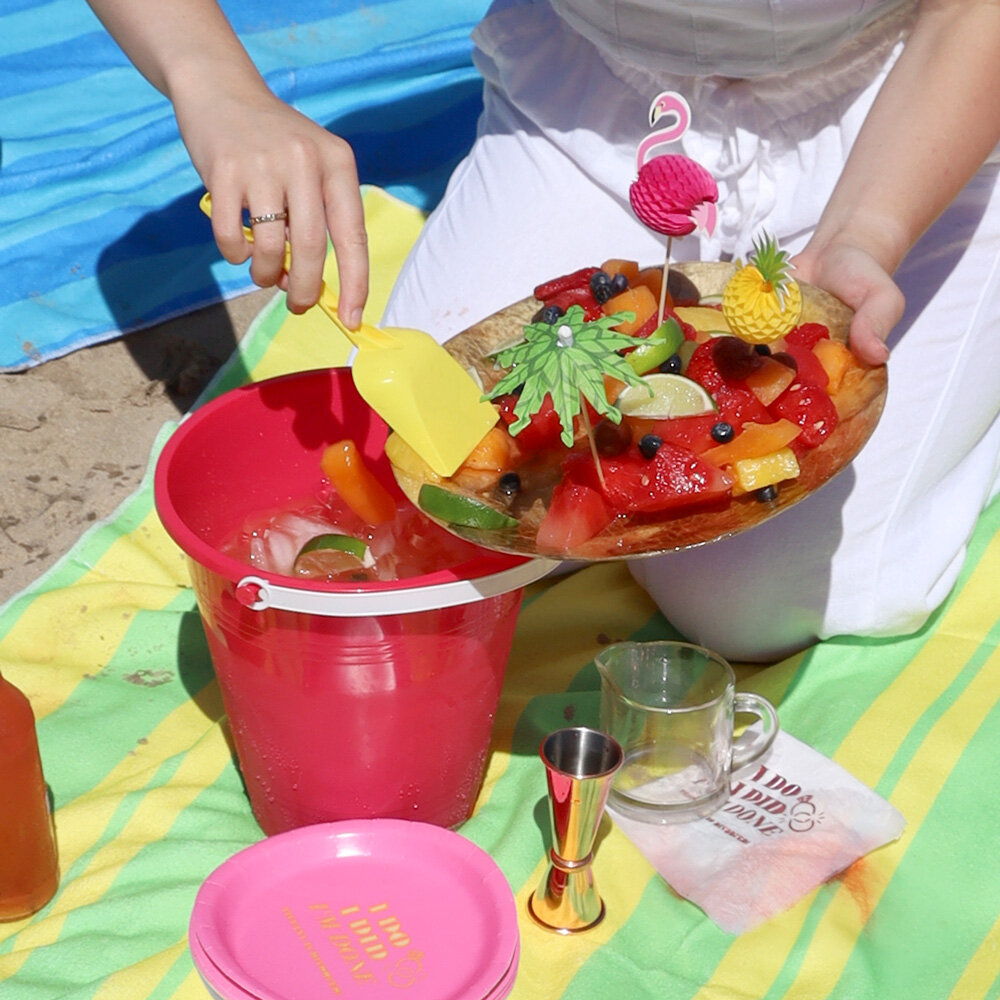 Rum Bucket Instructions
Start by filling your bucket with ice. Measure your liquid ingredients and add to the bucket, leaving out your Smirnoff Ice. Mix well. 

Top off with fresh or frozen fruit. Turn your Smirnoff Ice bottle into the bucket. Garnish with your cocktail umbrella and straw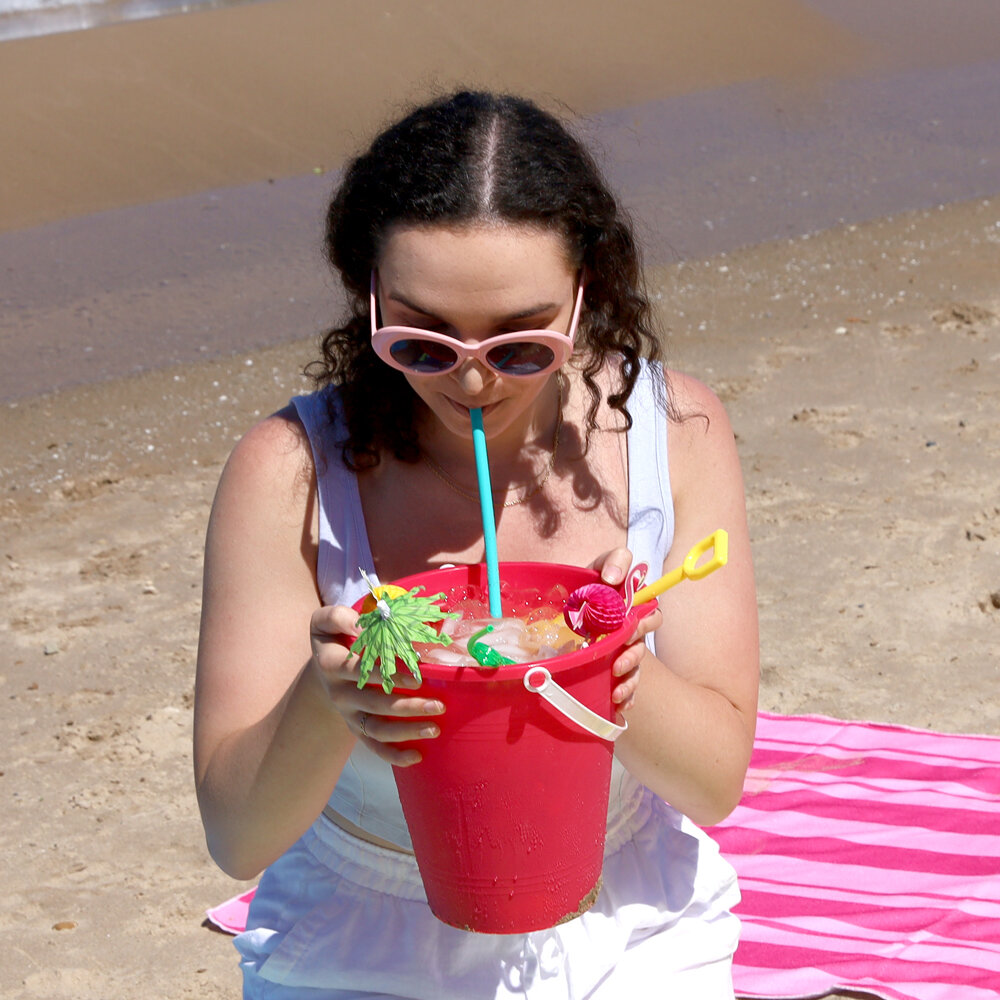 Enjoy! 
We promised it was that simple! This summer cocktail packs a visual punch while being so easy to make. If you are planning on serving this delicious rum bucket at a party, we are here to help with all things event. Check out our party accessory best sellers page to get inspiration for your next event. We have everything from dog cocktail napkins to classic wedding matchboxes.
If you make this rum bucket recipe at home, tag us on our socials @ForYourParty
Image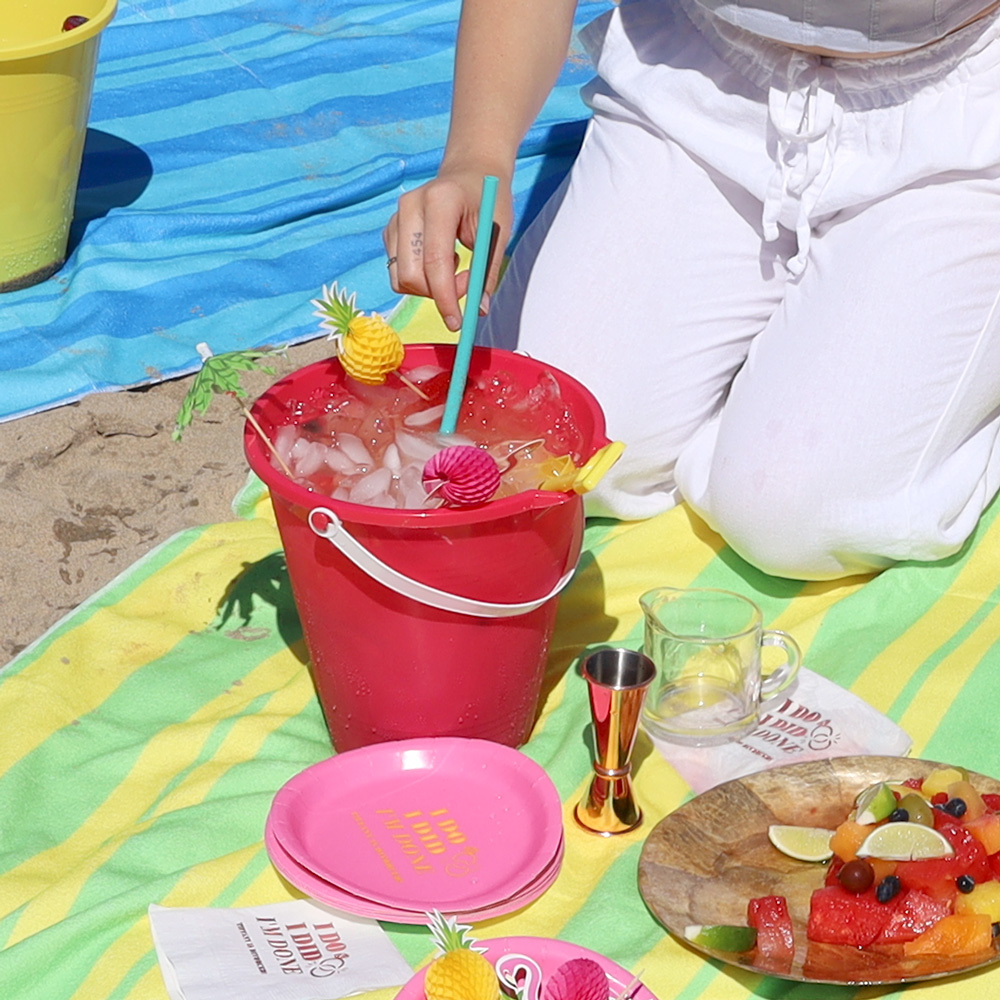 Popular blog post
Add to popular block