There is no doubt about it, hiring a food truck for your wedding reception is a summer wedding trend with staying power! The variety of tasty food types, plus the convenience of not needing a kitchen facility at your reception location could definitely equal a perfect solution for your wedding reception food!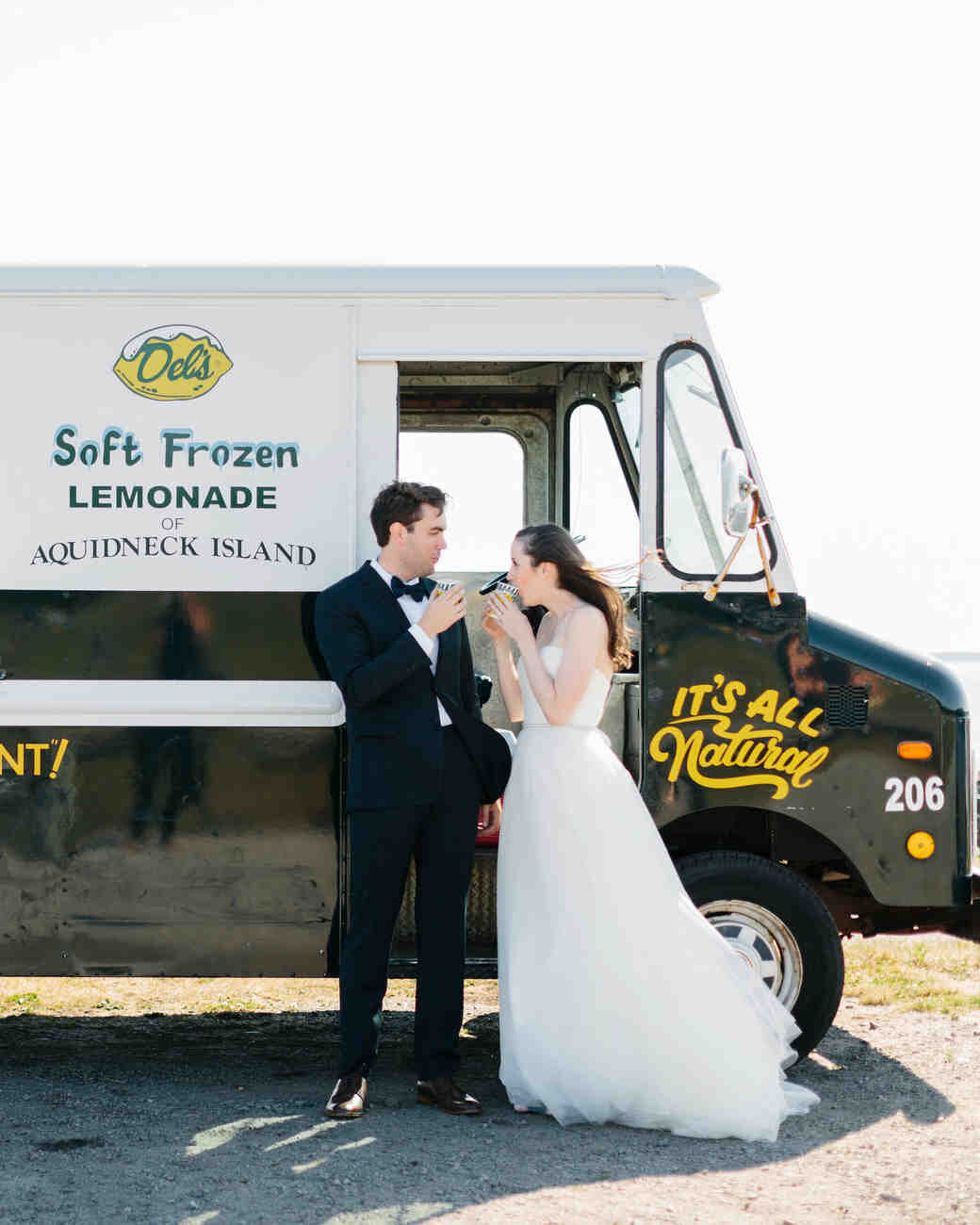 Wedding Food Truck for Reception Meal
If your wedding reception is on the intimate side size-wise, you can easily hire one food truck to feed everyone! With the right menu, using a food truck can actually be very cost effective and, of course, delicious!
Wedding "Food Court" with Food Trucks
If your wedding size is larger, or you'd just like more variety, set up a wedding "food court" of trucks. With two or three trucks, you can appeal to a diverse array of preferences, and even food requirements. Please your meat and potato loving friends AND your vegan friends by hiring trucks that appeal to different ends of the food spectrum. Choose one dessert food truck or bicycle stand for a sweet alternative to traditional wedding cake.

Late Night Wedding Reception Surprise Food Truck
If you plan on having a night of dancing after your reception meal, consider surprising guests with a late night food truck serving something yummy to top off the night! Give your guests some fuel to finish their partying strong! Tacos or burgers are both great casual, handheld food options. For something sweet, a donut truck or ice cream would also hit the spot. To be sure—the crowd will go wild when that Whataburger truck pulls up!
Food for Thought: Wedding Food Truck Hospitality
Using a food truck at your wedding reception is a fabulous idea, but definitely take time to think through the hospitality needs that may arise from your choice. For example, elderly guests may not be able to traverse their way to and from the truck, or may tire quickly from waiting in the line. Take a close at your guest list to make sure that you are considering the needs of your guests appropriately.
Personalize Your Wedding Food Truck Offerings
Extend your wedding décor and colors to your reception with custom designed napkins and styrofoam cups. Of course, food trucks usually provide their own paper plates and basic napkins, but you can totally still provide all the personalized wedding accessories that you want! Maybe it's a stack of personalized wedding napkins at each truck, or custom styrofoam cups for the ice cream truck to scoop their creamy treats into, whatever the case, you'll love the combination of your personalized accessories and the fab food you've arranged for!