Summer is finally here! And what better way to kick off the warmer days ahead than with a classic summer BBQ? A cookout can be a lot of effort if you're hosting, but luckily we've done the heavy lifting and made a BBQ checklist of everything you'll need to make this BBQ party the best one yet. So grab your grill tools and your cooler and let's get cookin'!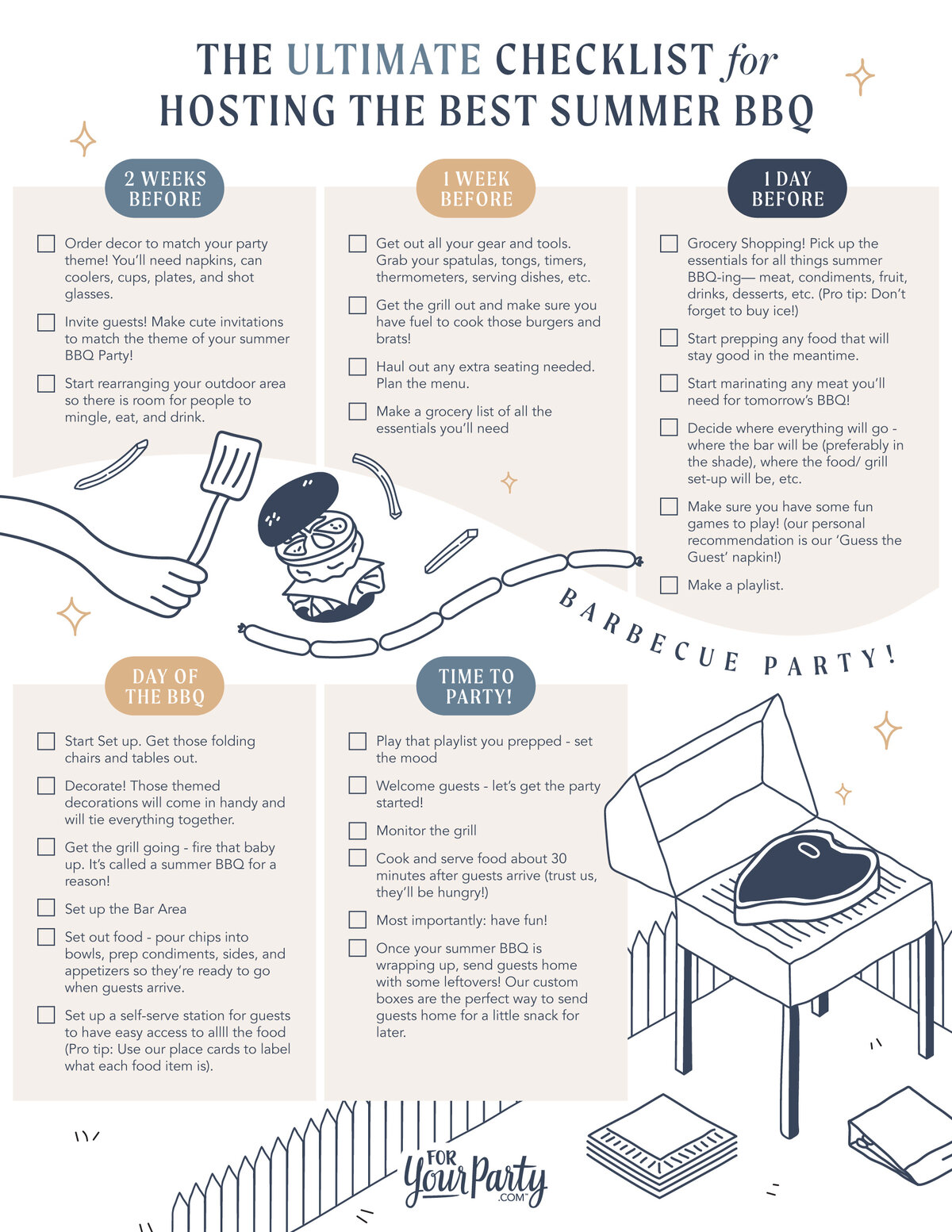 BBQ Checklist - 2 Weeks Before
[  ] Order decor to match your party theme! You'll need napkins, can coolers, cups, plates, and shot glasses. 
[  ] Invite guests! Make cute invitations to match the theme of your summer BBQ Party! 
[  ] Start rearranging your outdoor area so there is room for people to mingle, eat, and drink.
BBQ Checklist - 1 Week Before
[  ] Get out all your gear and tools. Grab your spatulas, tongs, timers, thermometers, serving dishes, etc. 
[  ] Get the grill out and make sure you have fuel to cook those burgers and brats! 
[  ] Haul out any extra seating needed. 
[  ] Plan the menu.
[  ] Make a grocery list of all the essentials you'll need - the meat you'll be grilling, appetizers, drinks, etc. 
BBQ Checklist - 1 Day Before
[  ] Grocery Shopping! Pick up the essentials for all things summer BBQ-ing— meat, condiments, fruit, drinks, desserts, etc. (Pro tip: Don't forget to buy ice!)
[  ] Start prepping any food that will stay good in the meantime. (Quick Prep idea! Make bite-sized appetizers in our custom shot glasses!), cut fruit/ veggies, premake drinks, etc. 
[  ] Start marinating any meat you'll need for tomorrow's BBQ! 
[  ] Decide where everything will go - where the bar will be (preferably in the shade), where the food/ grill set-up will be, etc. 
[  ] Make sure you have some fun games to play! - You can go with a classic game like cornhole or use our game napkins to mix it up a little (our personal recommendation is our guess the guest napkin!).
[  ] Make a playlist.
BBQ Checklist - Day of the Summer BBQ
[  ] Start Set up. Get those folding chairs and tables out.
[  ] Decorate! Those themed decorations will come in handy and will tie everything together.
[  ] Get the grill going - fire that baby up. It's called a summer BBQ for a reason! 
[  ] Set up the Bar Area - Fill the cooler with ice and drinks and make sure there are plenty of custom cups and napkins nearby! 
[  ] Set out food - pour chips into bowls, prep condiments, sides, and appetizers so they're ready to go when guests arrive. 
[  ] Set up a self-serve station for guests to have easy access to alll the food (Pro tip: Use our place cards to label what each food item is).
BBQ Checklist - It's Time to Party! 
[  ] Play that playlist you prepped - set the mood 
[  ] Welcome guests - let's get the party started!
[  ] Monitor the grill 
[  ] Cook and serve food about 30 minutes after guests arrive (trust us, they'll be hungry!) 
[  ] Most importantly: have fun!
Once your summer BBQ is wrapping up, send guests home with some leftovers! Our custom boxes are the perfect way to send guests home for a little snack for later.
Cheers!
So there you have it! The ultimate BBQ checklist of everything you'll need and more to make hosting your next summer BBQ a breeze! We hope this helps take the stress out of planning so you can focus on having fun with your friends and family. Share some pictures from your BBQ bash and tag us on Instagram @foryourparty! 
Image