by Rose Smith
Scroll down to shop our Pup Themed Products!
Pup-lovers unite! Here at FYP, we are firmly in the pup-loving, pet-loving category, and one thing we really love is seeing how our party planning community incorporates man's best friend into their special days. From weddings to birthday parties to parties FOR dogs, we love it all. Including your beloved dog in your big day, from the wedding ceremony to wedding photos to the wedding reception is such a heartwarming gesture. 
Over the years we have produced many dog-themed personalized wedding and party accessories, too, which is another fabulous way to incorporate your sweet pet into your wedding or party décor. Of course, if you're hoping to have your pup join you at your wedding venue, do check the venue policies so you don't run into any unforeseen snags in your plans. 
We've gathered our top 10 pup-friendly wedding and party ideas here: 
1. Name Them Your Best Dog or Dog of Honor 
They've been there for you night and day, through thick and thin. There's a reason dogs are called man's best friend. Give your dog their rightful role: dog of honor.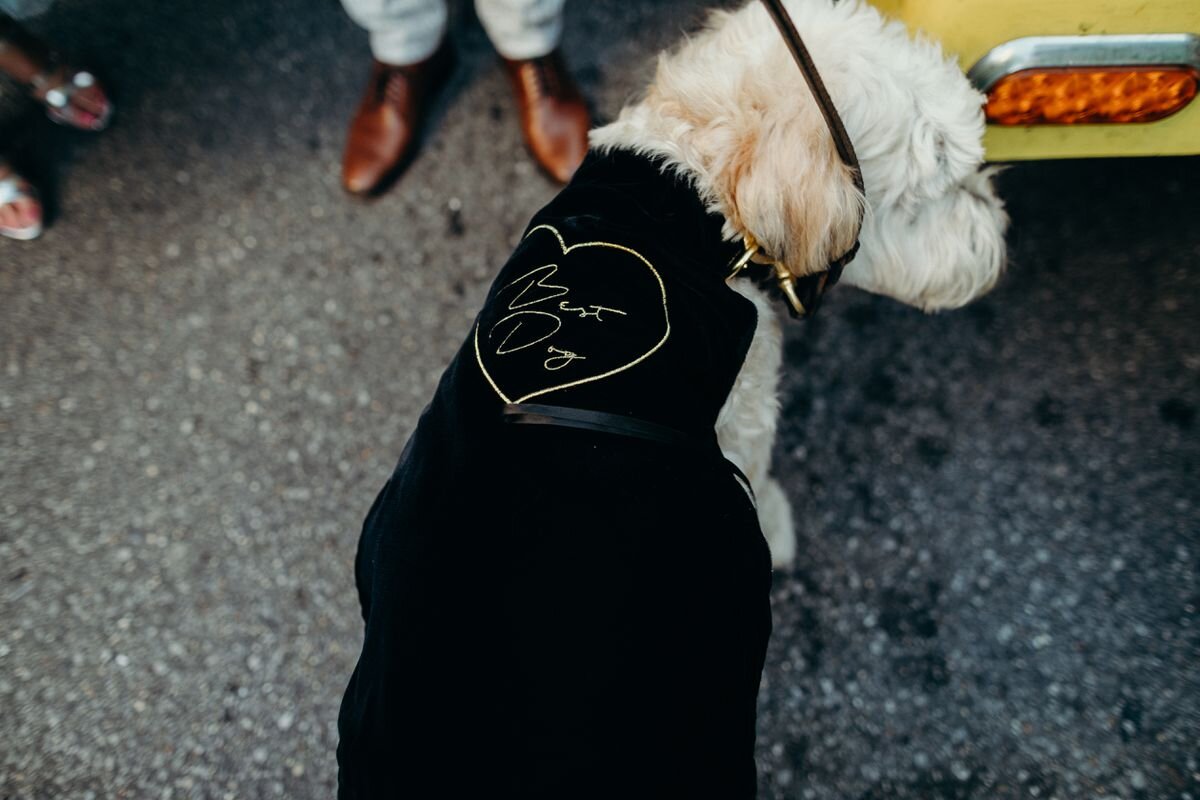 2) Bring Your Pup to the Photoshoot 
Your wedding day photos are not truly complete without a few shots with your dog. For your own peace of mind, designate a friend to make sure your dog's needs (food, water, treats, potty, etc.) are met on your wedding day, so you can be fully present.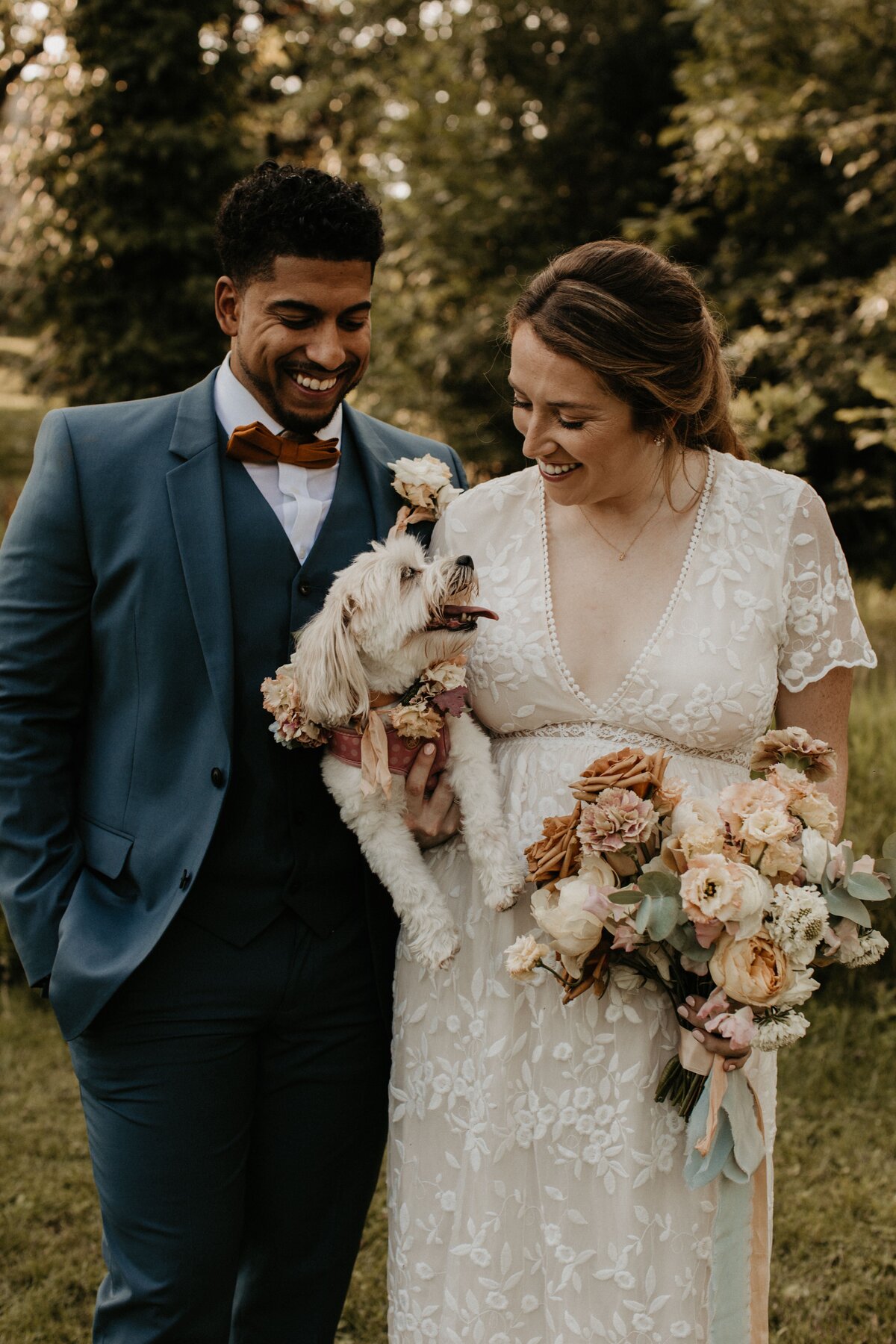 3) Give Your Dog Ring Bearer Responsibility
Let your dog deliver the goods on your wedding day as your adorable ring bearer. Experts agree, even the best-behaved dog should be leashed for this task. The person walking your dog down the aisle can also carry the ring bearer pillow if that makes you more comfortable. 
4) Add Florals to Your Dog's Wedding Day Leash
Whether your dog is performing a specific duty during your wedding ceremony or simply keeping you company throughout the day, have your florist provide some greenery or floral details for the leash. 
5) Create Photo Cocktail Napkins of Your Pup
Adding some pet-loving details to your custom wedding or party accessories is another way to express your love for your pup. Design personalized cocktail napkins to add to your other personalized accessories.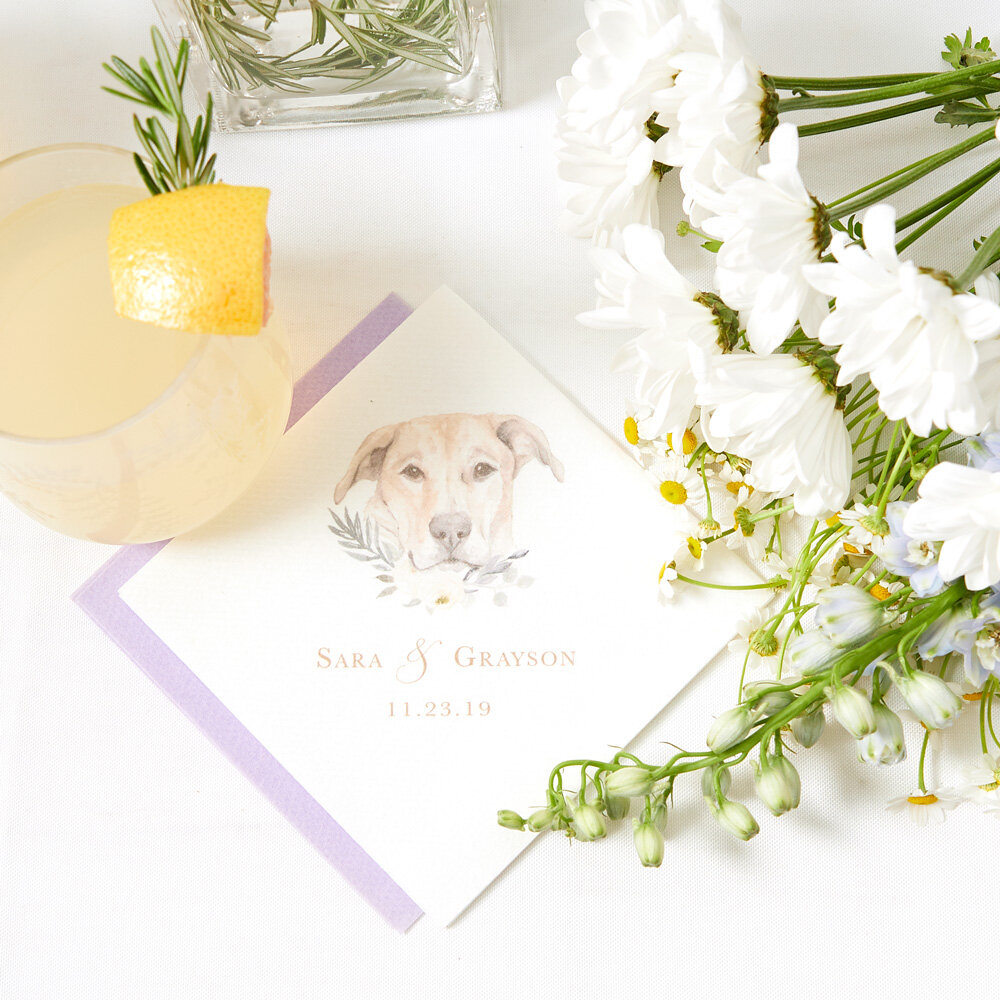 6) Have Your Dog Provide the Best Dressing Room Company 
On your wedding day, the getting ready process is truly a big part of the day. Having your best dog there with you all day to keep you company is a good, low-key way to involve your pup in the day. Make sure to include some special treats for them on such a special day.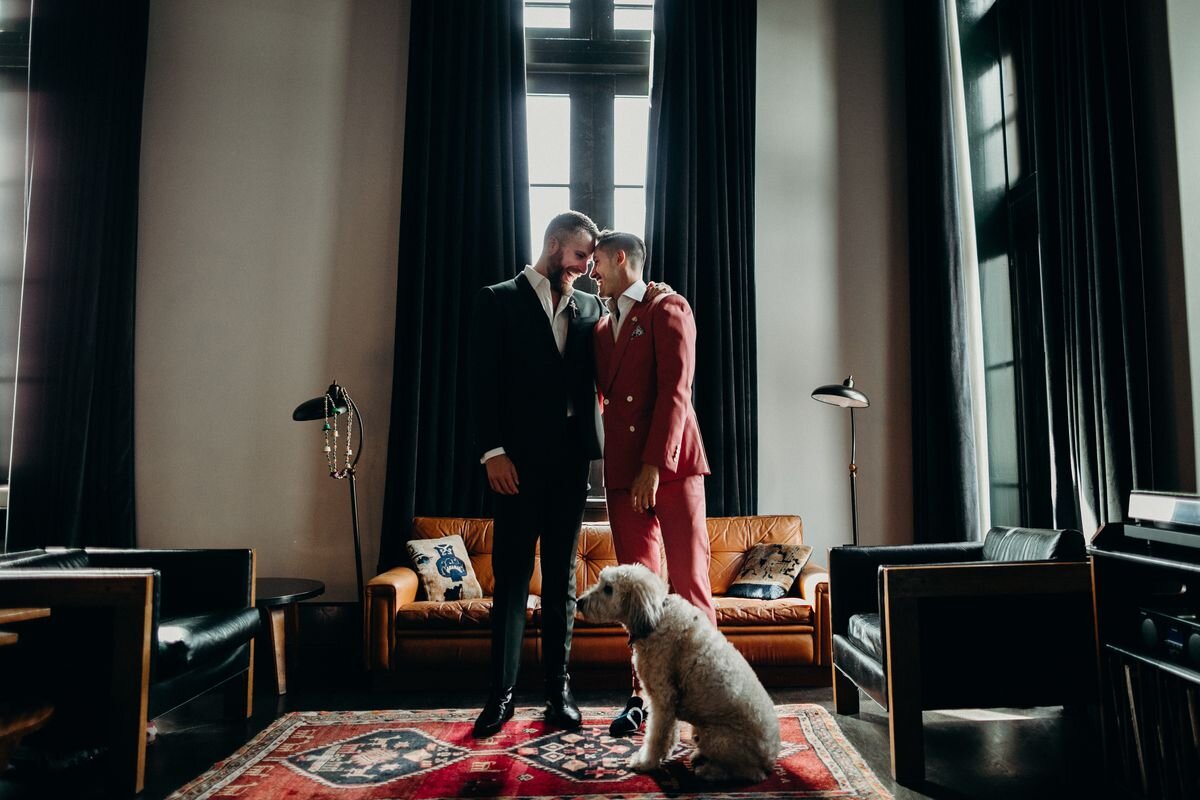 7) Commission an Illustration of Your Dog to Use on Custom Coasters 
For an artful addition to your wedding cocktail hour, why not commission an illustration of your dog to use on your full-color photo coasters or wedding bar napkins? At For Your Party, your unique design can easily be uploaded to create a meaningful and one-of-a-kind look.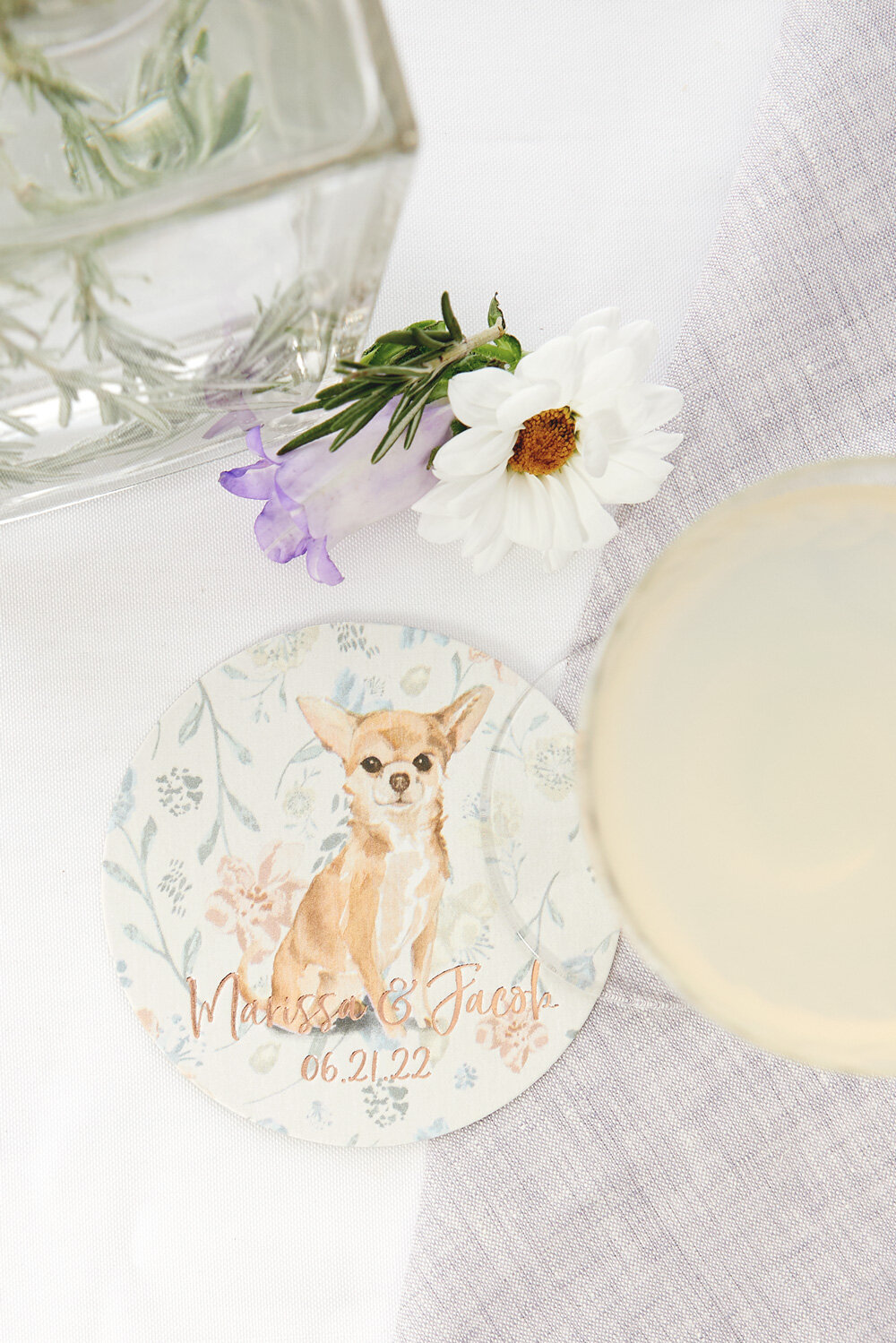 8) Have a Pup-Themed Dessert at the Dessert Table 
Give a nod to your pet-loving self with a pup-themed item on the dessert table. Adding a cute themed option alongside the mainstay desserts will bring a smile to your guests, young and old.

9) Pay It Forward with a Wedding Favor Donation to Your Favorite Pup Charity
Extend your love for animals by donating to a local shelter in lieu of wedding favors or party favors. Your guests will appreciate knowing that their attendance translates to meaningful assistance on a local level. 
10) Throw Your Pet the Party!  
Don't have a wedding or party on the books? Then it sounds like it's time to plan a party FOR your pet! This year, throw a birthday party for your dog or do something less obvious and throw their bark mitzvah! A guaranteed heart-warming experience for everyone involved, you'll love showering your pup with all the love and attention on their special day. 
However you decide to include your beloved dog in your special day, make sure you don't forget the treats! You'll love having your sweet pup by your side during your big day!
shop this post:
Image