Not every personalization is a monogram! (Although, we do very much love this classic style). With word art on high trend and every meme-tastic moment, puns are on the rise. Afterall, who doesn't love a good play on words...in a beautiful font, foil stamped on personalized barware and color coordinated to fit your theme.
So what can one make a pun out of when it comes to party accessories? So. Many. Things. Here are a few examples from the FYP office.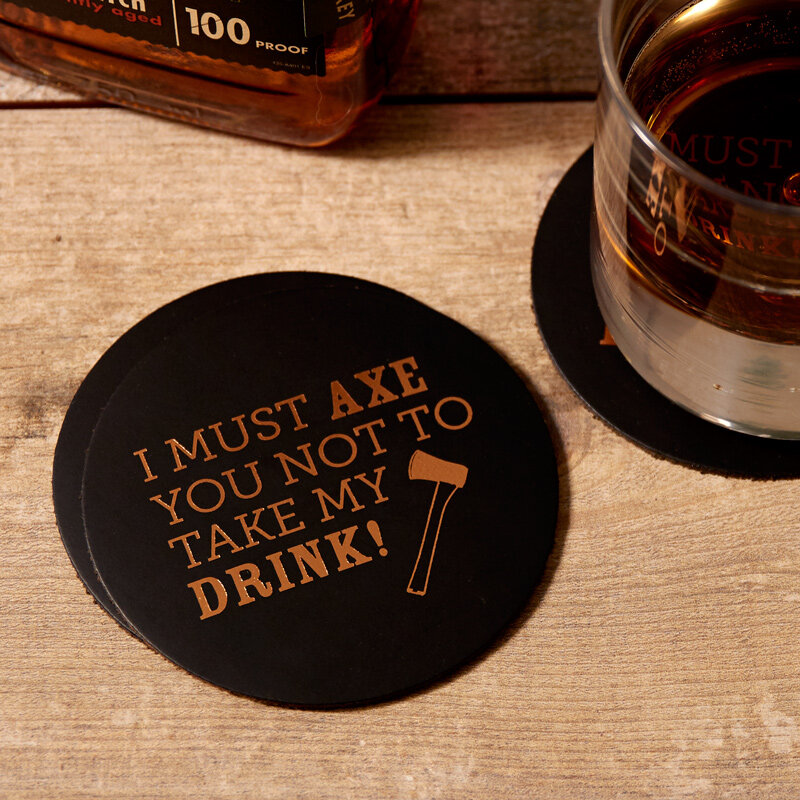 PUNS ABOUT
the food
Donut leave without a treat ---> stamped on treat bags provided on your dessert table
S'more love with Jack and Jill ---> camping themed bridal showers are a real thing
You stole a pizza my heart ---> who wouldn't love a pizza-themed engagement party?
the bar
It's wine o'clock/beer:thirty ---> custom coasters are super fun to have on hand at your home bar
You had me at merlot ---> hello cute cocktail napkin and generous glass of wine
Whiskey me away ---> top off your next drink with an adorable stir stick
the theme
Thanks for choppin' by ---> because lumberjack themed parties will always be a hit
It's par-tea time ---> tea parties are for bridal showers, birthdays and brunch!
We mermaid to be friends ---> imagine this on goodies at a mermaid themed birthday party
Come in, relax and let moose –––> these custom koozies are too adorable not to use for a bachelor party or cabin weekend getaway
the favors
So plaid you came ---> end that lumberjack themed party with the perfect personalized favor
Mint to be ---> for lovers of all things natural who gift herbs as wedding favors
Mani thanks for coming ---> picture these gift tags tied to nail polish given at a spa themed shower