Face masks have become an essential item for any event in 2020, whether it's a casual BBQ, a wedding or even just a trip to the grocery store. While it may not be everyone's preference, facial coverings are here to stay for the foreseeable future. To make the best of it all, why not turn a short term requirement into something adorable with For Your Party's customized face masks! We have recently added kids sized masks, too, so any children you're including in your gatherings can have an appropriately sized option.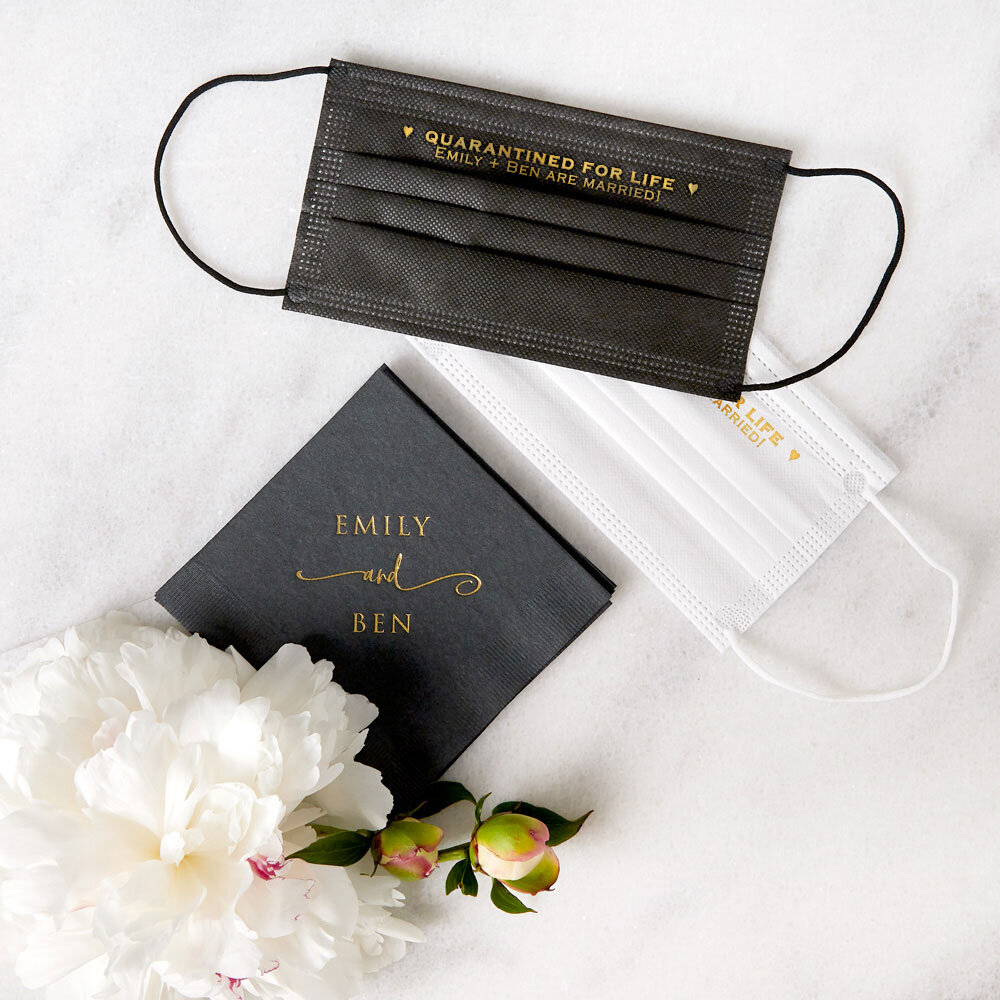 Face Masks for Weddings
Despite a pandemic, love and marriage are still happening in 2020! Of course, offering personalized face masks for wedding guests is now an essential hospitality provision! Put your guests at ease by providing and encouraging everyone to don your custom designed wedding face masks. With multiple colors of personalized disposable face masks available and endless foil stamping colors, you can design personalized facial coverings to complement your custom wedding cocktail napkins and other wedding décor. Face masks for wedding favors is a new necessity, so they might as well coordinate perfectly with the rest of your custom wedding accessories like personalized napkins and cups!
Face Masks for Baby Showers
2020 babies are still being born, and what a great reason to celebrate! Being born during a pandemic is quite a way to make an entrance, so let's give these little ones a warm welcome! If you're planning a baby shower, add custom face masks to your list of party supplies. Choose a face mask design that aligns with your party theme for maximum coordination. Your guests will be so grateful for your thoughtfulness, and you'll love the way all of your baby shower accessories maintain design continuity. If guessing the baby's gender is something you want to feature at the baby shower, order custom face masks in both blue and pink, and have your guests wear the color mask that they believe the baby will be! 

Face Masks for Birthday Parties 
Birthdays only happen once a year, so find a way to celebrate! Even with social distancing requirements, we can still manage to honor our loved ones on their birthdays. Create custom face masks to provide for your guests -- we even have kids disposable face masks! Whether your birthday party plans include an outdoor BBQ or a drop-in champagne breakfast on the patio, your guests will appreciate the hospitality of provided personalized disposable face masks.
Face Masks for Businesses
Keeping your business open and in compliance with your local mask mandates is a challenge. Providing your clients and customers with custom face masks is one way to navigate the requirements. By supplying your patrons with a mask, you are protecting your work environment and your employees. Add your business branding to the face masks for an added detail that will not go unnoticed.

Face Masks for Bar/Bat Mitzvahs
The life milestone of a child's Bar Mitzvah or Bat Mitzvah is not one that can be put off! Of course, you may opt to have a grander celebration when the pandemic passes, but marking the moment in real-time is crucial! Taking necessary precautions, such as providing face coverings for your guests, is an important responsibility of anyone hosting a gathering during the ongoing COVID19 pandemic. In the midst of the uncertainty that a pandemic brings, make sure to attend to the coming of age event your child has been anticipating for years!
Face Masks for All Events
As we press on with our lives, even with all the precautions a pandemic requires, we'll find that there are still so many reasons to celebrate, albeit in an adapted way. Bridal Showers, Christenings, Bachelor and Bachelorette Parties — these are all life milestones that deserve to be celebrated in some way! One key way you can safely celebrate is by making face masks an essential element of your hospitality in 2020.