Zoom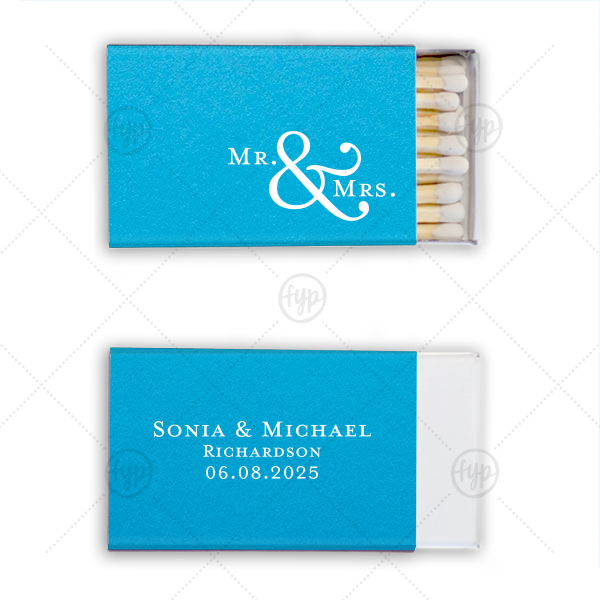 More Detailed Information
Custom made to order, FYP Matches are created by imprinting your design onto your paper of choice and then securing it with a durable adhesive around the body of each matchbox, leaving the striker pad accessible. This time-tested method allows for the vast array of paper types and colors we offer. Hand assembled, these are not the mass-produced, printed matches you would pick up in a bar or restaurant.
A manufacturer's mark may appear on the bottom edge of Strike Matches.
Personalize your Matches with text and illustrations from our extensive, designer-curated collection. With over 100 paper colors, 150 fonts, 50 foil colors and 1,300 clipart images, you can create the perfect party accessories for your event. You also have the option to Upload Your Own Art for a truly unique product. Please note that only certain designs will fit on your matches, depending on the size of the box. 
About This Product
Our custom Poptone Turquoise Classic Matchbox with Shiny Champagne Foil Color and Shiny Leaf Foil Color will look fabulous with your unique touch. Your guests will agree!
Mr. & Mrs. Match
Product Description
50 minimum
2.22" w x 1.375" l x .46" h
Approx. 19 matchsticks
Expedited options available
Optional Upcharges
Designer Art Surcharge: 25%
Foil & Embossed Plate Charge: $25 (additional production time)
Custom Art Plate Charge: $50 per unique design (covers 2 products)
Additional Custom Art Charge: $10 (per product after first 2)