We are so excited to share with you the wedding of Ashley and Matt as For Your Party's first ever Real Wedding feature! Their special day was personal, warm and filled with beauty. Intimate and sweet, at the end of the night, the talented newlyweds surprised their guests with a serenade.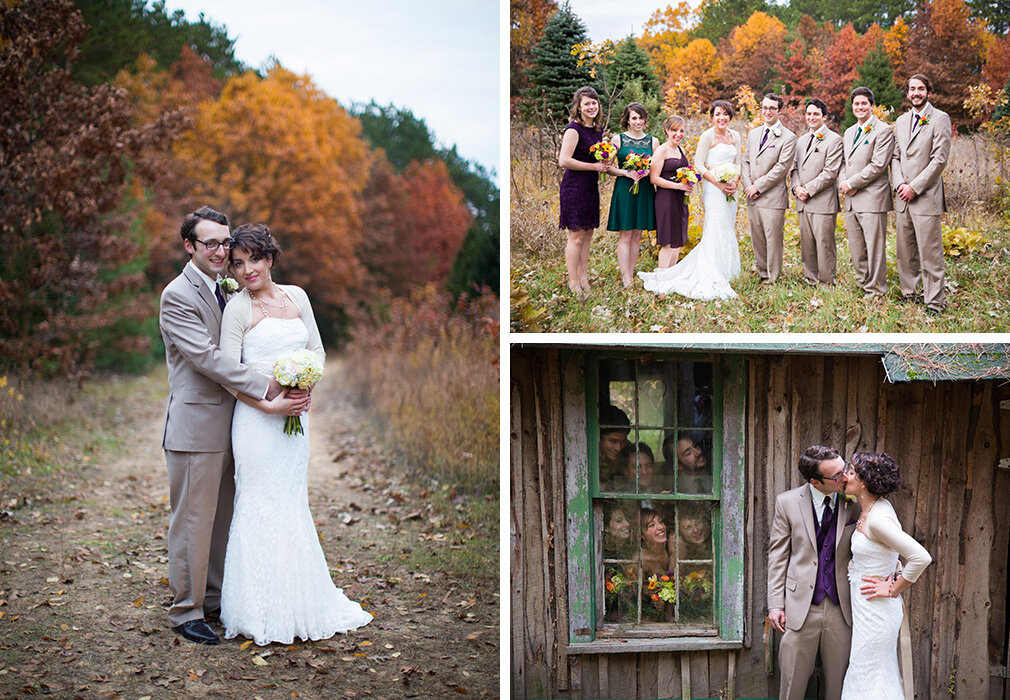 The wedding took place last fall on a gorgeous day at Williams Tree Farm in Rockton, IL. The decor mixed deep orange, burgundy and emerald with bright yellow and pink for a lively and warm jeweled toned palette as natural and rustic as its scenic location.
We asked Ashley to share her favorite part of the day, and this is what she shared with us…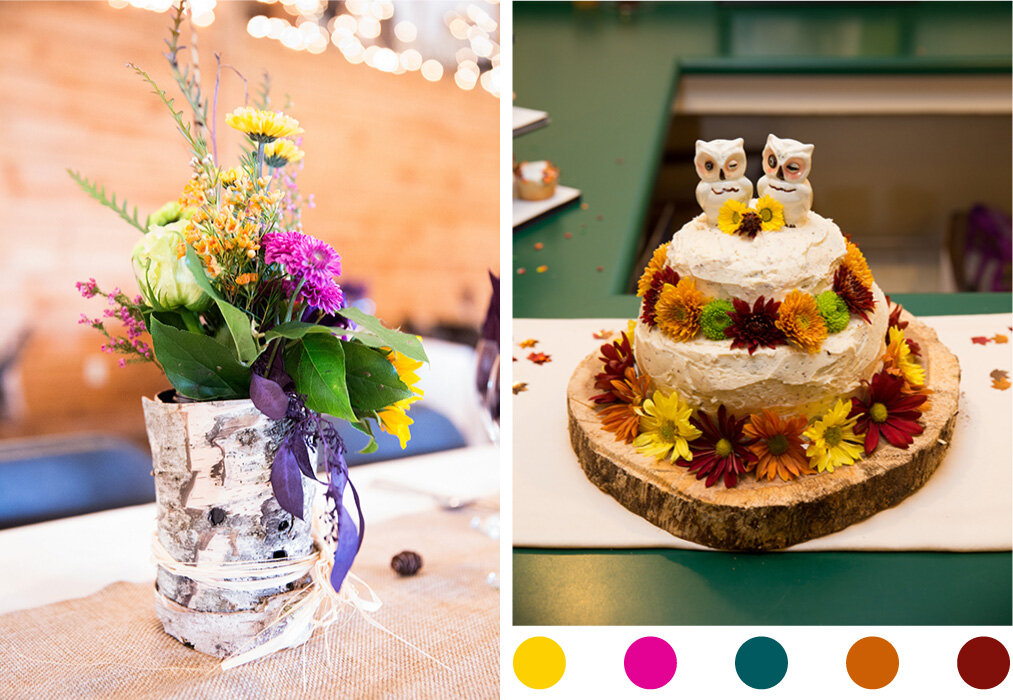 "It's hard to pick just one! There are two that really stand out:
Many of the elements of our wedding were contributions from our loved ones. For example, the Williams family are very dear friends who went out of their way to host such a memorable day for us. My cousin created hand-painted signage, the cake was made by a bridesmaid, our flowers were expertly arranged by a family friend, the guestbook and invitations were designed by another bridesmaid (FYP's very own, Claren)—we even had home-brewed beer!
After the ceremony, we ventured away from the lodge and into the surrounding forest for photos with our bridal party. It was a really special time to get away from the buzz and excitement, to reflect and bond with our best friends!
I also loved seeing the amount of family and friends, from both sides and of all ages, making connections with each other. Like college friends meeting grandparents! Being able to reconnect with friends and family (and some that traveled as far as Florida, Texas, North Carolina, and California!) just made it really special."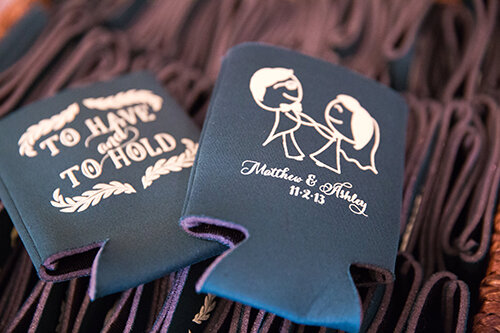 Ashley and Matt were one of the first couples to feature Custom Can Coolers from yours truly! We also worked closely with them to develop the perfect Custom Invitations, Menus and, of course, Cocktail Napkins. We are thrilled that Ashley and Matt included us in their beautiful, elegant, special day!
●●●
Williams Tree Farm – Rockton, IL: Such a beautiful land and friendly staff.
Best Events – Janesville, WI: They provided an all-inclusive experience—food, decor, tables, settings.
MRohrer Photo – A talented photo team, Matthew Rohrer and Caroline Dodd.
Fosdal's Bakery – Stoughton, WI: AMAZING cupcakes!
Neil's Liquor – Madison, WI: They offer great deals for events and are very accommodating!
Image