Zoom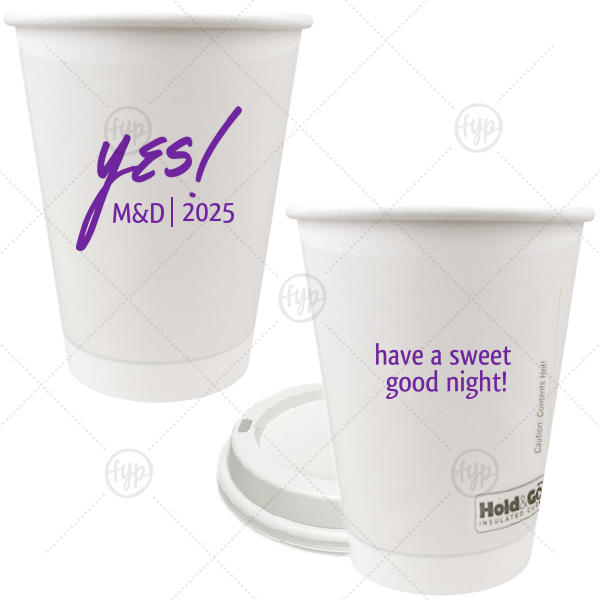 More Detailed Information
FYP offers five types of cups in numerous sizes and three types of can coolers. Our entire cup selection is made in the USA. When ordering cups, remember that the liquid amount you pour in the cup will be less than the ounce size of the cup. Order a size up to allow room for bubbles, foam or ice.
Lids are included with paper coffee cups.
Recommended sizes:
Frost Flex 9oz — wine & spirits on the rocks
Frost Flex 10oz — wine & signature drinks
Frost Flex 12oz — mixed & signature drinks
Frost Flex 14oz — mixed & signature drinks
Frost Flex 16oz — beer
Frost Flex 24oz — soda & water
Foam 12oz — coffee & tea
Foam 16oz — beer, soda & water
Foam 20oz — beer, soda & water
Stadium 16oz — beer
Stadium 22oz — beer, soda & water
Stadium 32oz — beer, soda & water
Personalize your cups with text and illustrations from our extensive, designer-curated collection. With numerous cup sizes, over 150 fonts, 50 print colors and 1,300 clipart images, you can create the perfect party accessories for your event. You also have the option to Upload Your Own Art for a truly unique product. 
About This Product
The ever-popular Matte Amethyst Ink 12 oz Paper Coffee Cup with Matte Amethyst Ink Screen Print has a Yes graphic and is good for use in Words themed parties and can't be beat. Showcase your style in every detail of your party's theme!
Yes Paper Cup
Product Description
50 minimum
Lids Included
4.35" tall, 3.35" wide at top
Coffee & tea
Recyclable
Volume discounts
Expedited options available
Optional Upcharges
Designer Art Surcharge: 25%
Foil & Embossed Plate Charge: $25 (additional production time)
Custom Art Plate Charge: $50 per unique design (covers 2 products)
Additional Custom Art Charge: $10 (per product after first 2)